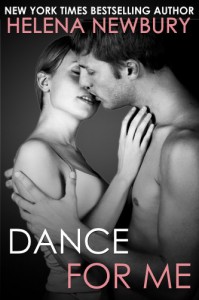 Items ticked off: 18

I more or less have one thing to say about Dance For Me. No, make that two. Say what you will of this book's plausibility, but in regards to the romance, I'm saying it's ridiculous. This is the heroine after seeing him. Not talking to him. Not meeting him. Literally seeing him from afar.
It had been two minutes and I felt like I hadn't seen him in months.

This is the stalker hero after seeing the heroine.
Two hours later, I had a program that would grab the photo of anyone on Facebook between 19 and 22 (I'd pegged her at 21, but I couldn't be sure) who went to one of the long list of dance schools, academies and colleges I'd drawn up. It eliminated the men and then flashed up the photos one every second on my monitor. I poured more coffee and clicked Go. The hell with the odds. I was going to find her.

This is the heroine when she meets the stalker hero for the second time and he says another woman's name (who happens to be her friend).
Hearing him say her name, I was suddenly jealous.

This is the stalker hero when he's met the heroine about two times and she mentions the word Harper.
Who was Harper? A girl? A guy? Was it some guy's house? I thought of her going to some open house college party with kegs of beer and chisel-jawed actors, while I was stuck in Virginia. I didn't want to go overboard on the texts, so I sat there and stewed for a while and then, while I should have been listening to some guy talk about jet thrust, I foundhttp://fenbrookacademy.com on my phone and discovered under Life at Fenbrook that Harper's was a coffee shop, and that made me feel a little better.

This is on the second – or first, don't remember – date.
"I love you."
He took my face between his hands and kissed me again and again. I managed a delighted "I love you too!" between kisses.


In conclusion, the romance sucked. It takes the prize for quickest insta love, ever. Anything you can come up with, this takes the prize. Something plausible, who the fuck needs that? They are in love after meeting three times? The heroine claims to know this stalker hero after knowing him for less than a month? The hero is obsessed (to the extreme) after seeing the heroine one fucking time. No way José. Not in this universe.

The second, and final, thing: The "hero" in this story is the reason why restraining orders are necessary.